THE GREATEST SIDEKICK EVER. Throw it in your workout shorts and go for a run. Carry it in your front pocket as a lightweight wallet. However you use it, the Nylon Card Holder is backed with RFID blocking security and it's as slim as they come. This tiny card case is an office favorite, over here, we use it to organize business cards. With two pockets, you can store your business cards separate from the cards you collect while on the move.
30-DAY FREE RETURNS
Buy today, return anytime in the next 30-days for free with no questions asked.
MONEY-BACK GUARANTEE
If you don't love your Allett, return it to us for free in the first 30-days for an immediate full refund.
BACKED BY OUR WARRANTY
Allett products are warranted to be free from defects. If one of our products becomes structurally unsound within a year of purchase, we will replace the item.
0
RFID Theft Protection
Canceling your credit cards due to a lost or stolen wallet is a pain. Being a victim of RFID skimming is even worse. This form of theft uses high-frequency scanners (13.56 MHz) to duplicate credit card and passport information from a distance, without touching your wallet. Our RFID blocking products contain an ultra-thin layer of military-grade RFID blocking material to prevent information theft and give you peace of mind.
Customer Reviews
Write a Review
Ask a Question
04/07/2020
Michael L.
United States
I recommend this product
Just A Damn Good Product!!!!!!!!!!!!
I purchased my first Thin cardholder at the State Fair in Sacramento so long ago I can't remember when!..Then I purchased the leather Card Holder as my "Dress Wallet"..I carry all my credit cards, membership cards, as well as a few business cards, and it all fits very nicely in my left front pocket with no obvious bulge..Now my cash I carry in a money clip in my other pocket..This way everything is safe and secure in my front pockets..Finally, the all the corners started to wear out, so i went online and purchased my latest card holder..I swear it seams to have just a touch more room then my older ones..Anyways..I am a very satisfied customer, and will be a repeat customer for years to come..Michael Ledesma
03/20/2020
Rid
United States
I recommend this product
it is surprisingly slim
the wallet was super slim and I was actually amazed how thin it was since I bought countless of slim wallets and most get bulky with 4+ cards in them. I put 6 cards in this one and it is still thin. NOW, the only thing I wish this wallet has to make it perfect would be a band around the wallet to keep the wallet closed. the cards tend to slide out a little after opening it and I'm scared it might slide out completely one day. Next is a personal preference, I wish it also had a key hole to put a key ring for keys. of course I easily made one my self.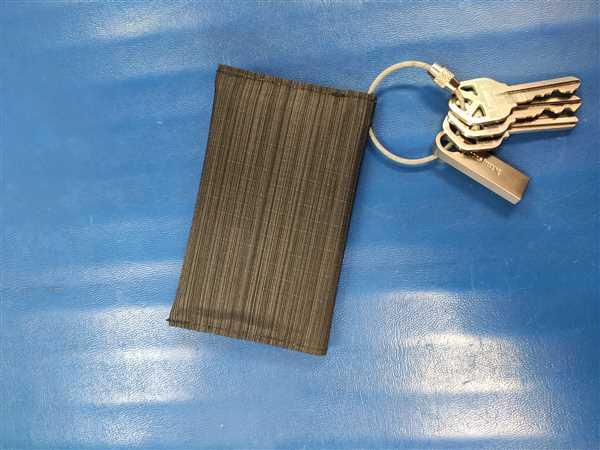 02/01/2020
Rhonda R.
United States
I recommend this product
Happy Customer
I actually use the nylon cardholder inside my wallet. It holds a few of the smaller members cards like CVS, and my insurance cards and medical info. That way it's all together. Still thin enough to fit
01/10/2020
Nancy B.
United States
I recommend this product
Great minimalist wallet - Almost didn't find it due to the end of net neutrality
My husband loves this wallet. He wanted a true minimalist card holder. This is the smallest and thinnest out there. I almost didn't find it due to traffic (search result) prioritization. When I entered all the key words to find a minimalist wallet a bunch of inferior Amazon and eBay results turned up. Allett should have been within the first three pages of search results. Luckily, my sister remembered the name of the company, so I was able to go directly to their website. Fast shipping, too!
01/02/2020
Tee W.
Singapore
I recommend this product
Excellent Quality
Good quality materials and workmanship. Shipped to Singapore in good time!