A San Diego Original Since 1995
Allett's unconventional design perspective has taken the typical wallet to a whole new dimension, literally the thinnest dimension possible. In an era of mass production, our small batch manufacturing process provides quality you can see and experience year after year. Our commitment to making a better wallet has spanned over 27 years. We believe in hard work, happy customers and making a product that doesn't quit. Here's to another 27 years!
History
Allett designs and manufactures the slimmest wallets in San Diego, California. We got our start in 1995 with a design patent for our Original Wallet. The groundbreaking design was engineered to relieve back pain associated with carrying a bulky wallet. It was the first slim wallet of it's time and has yet to be matched in form and function. The simple genius of this design and the concept of doing more with less is carried throughout Allett's growing product line.
Our San Diego Factory
Allett's small manufacturing team is comprised of experts in sewing and leatherworking. These skilled craftspeople create our ultra-slim wallets with an unmatched level of quality.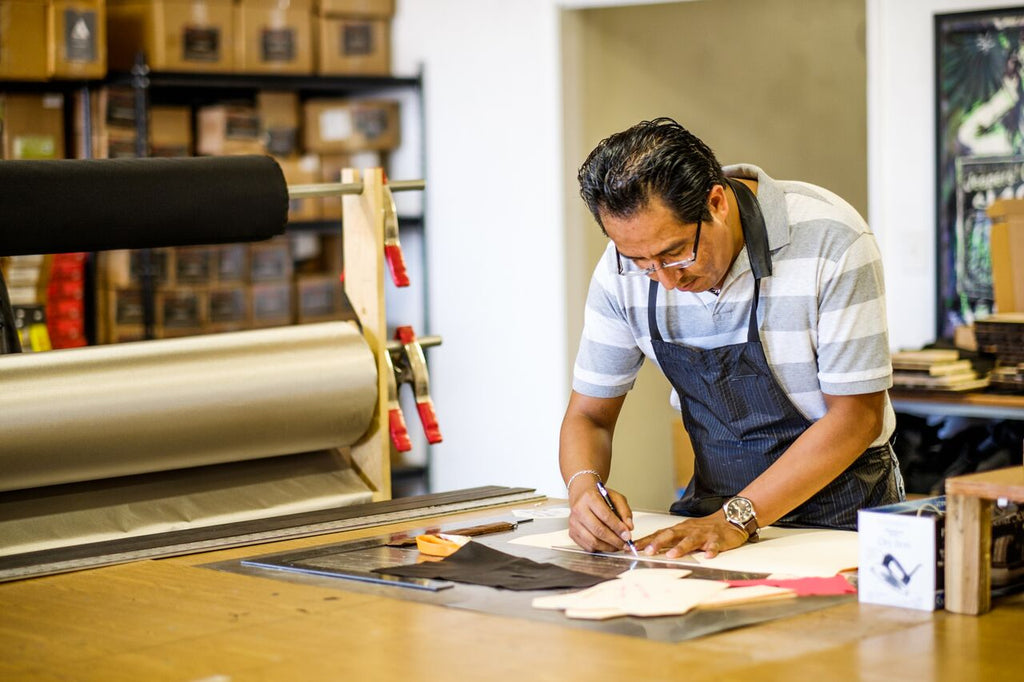 A design is never finalized until a pattern has been created and prototypes have been tested. Our goal is to build a pattern that is efficient to produce while providing the best experience for the end user.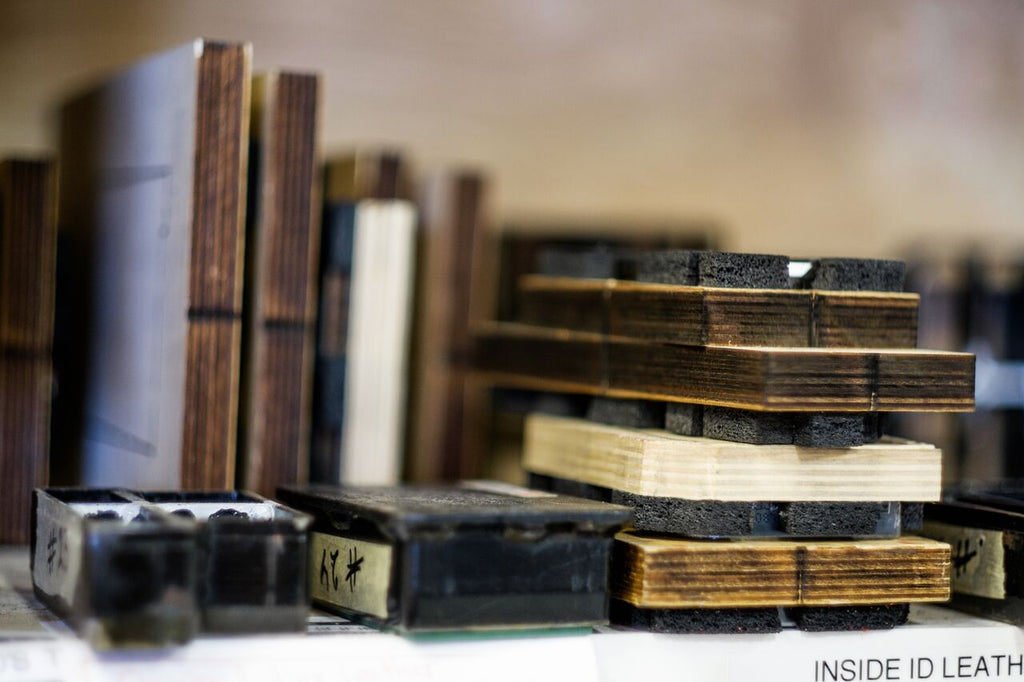 Dies made of wood and steel blades are what we use to cut material. Layers of nylon are stacked up to cut multiple sheets at a time, while leather is cut piece by piece.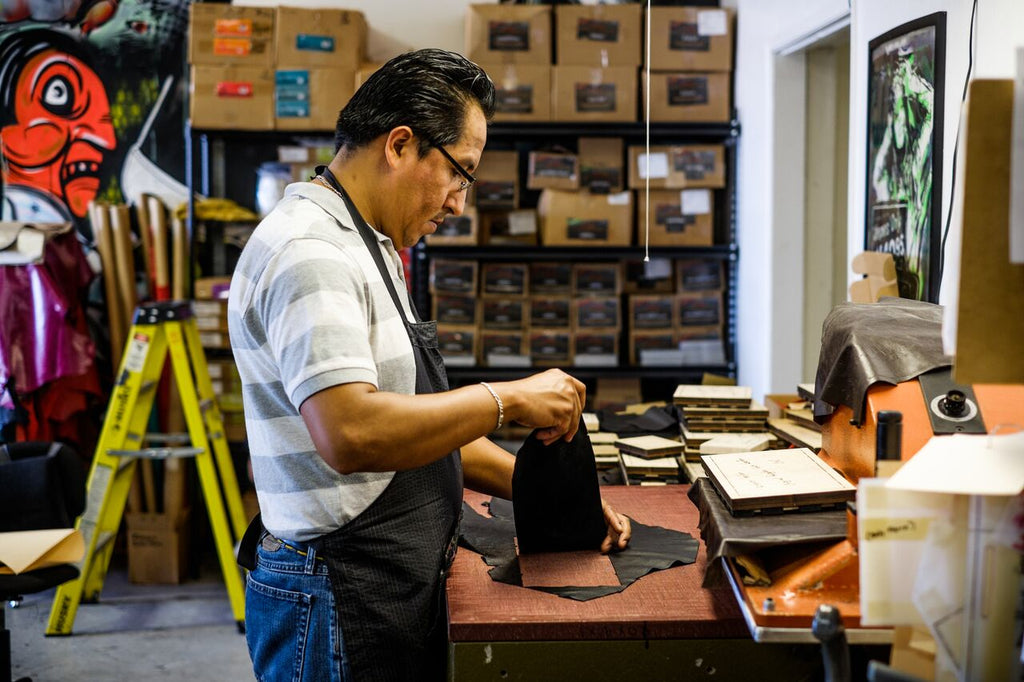 The die is positioned on a single hide of leather or a stack of nylon laid out in the clicker press machine. With the click of a button, ten tons of pressure are applied to the die which cuts the material.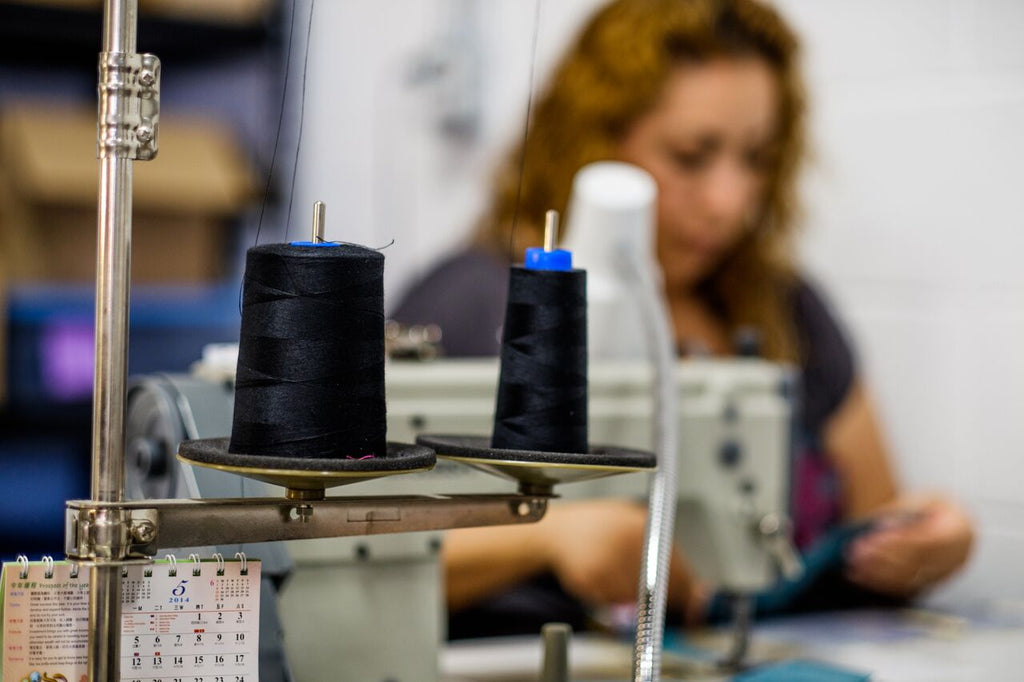 There are multiple stages of sewing in the process of building an Allett. The initial sewing stages secure folded edges and pocket placement.
This box of rubber gripper is cut to size and ready to be sewn into the interior of wallets. The card gripper is an important feature of Allett wallets because it keeps cards secure inside of the credit card pockets.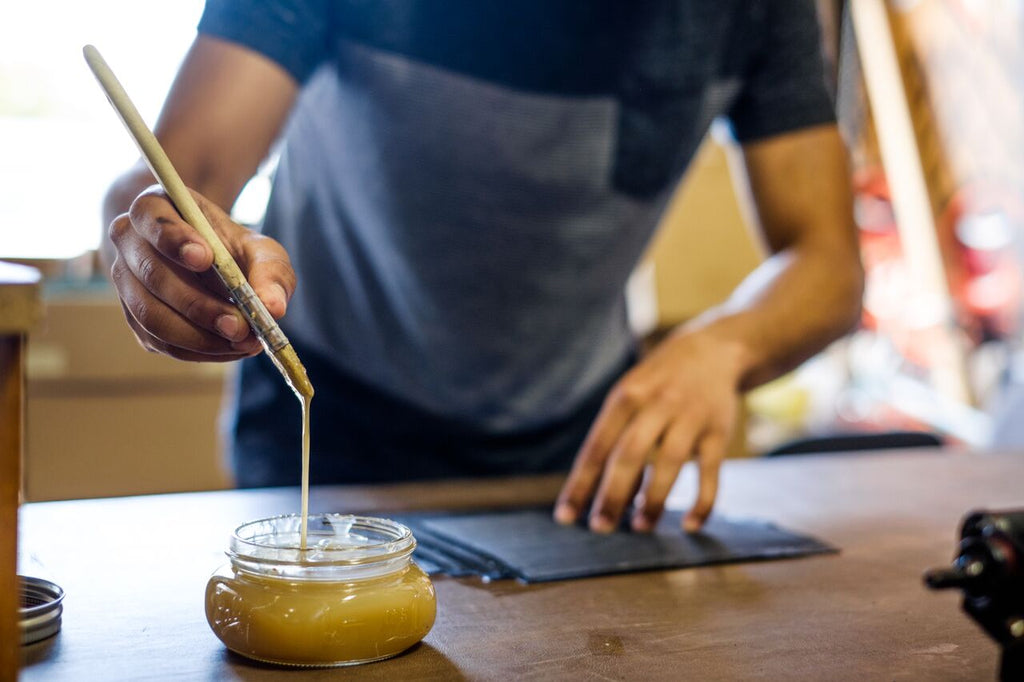 Water based glue is applied to the base of the wallet, attaching the leather and nylon together. Glue is also applied to the edges of the material for folding. Glue is used in preparation for the next stage of sewing.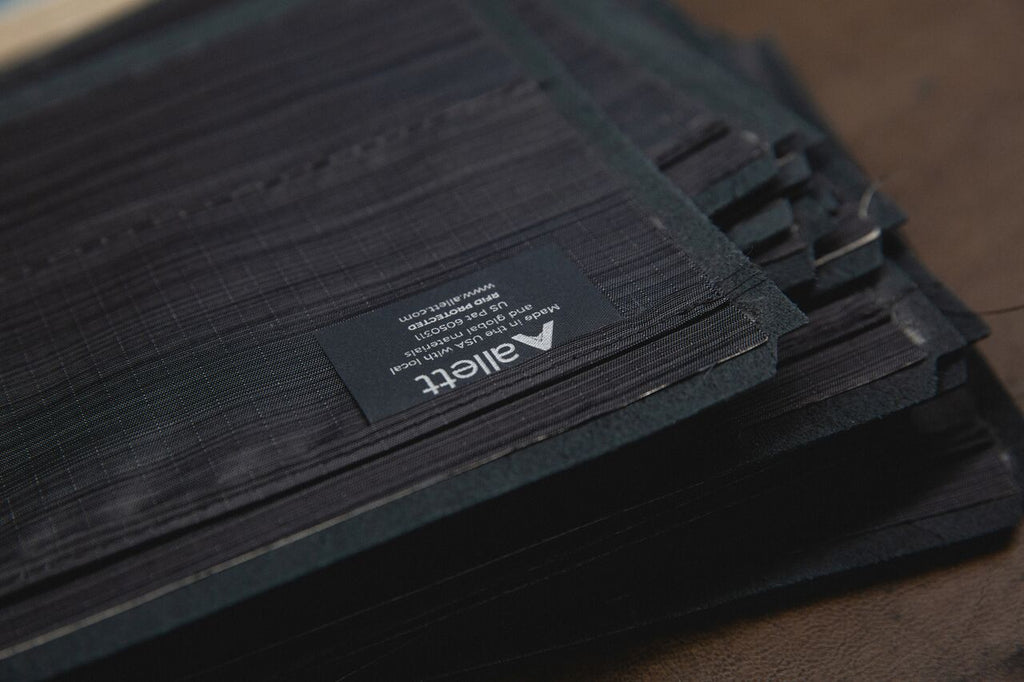 Here is the exterior of a wallet before the edges have been folded and sewn. You may notice the corners of the leather are snipped before the edges are folded. This extra step is performed to assure the corners of our wallets are always folded tightly and look clean.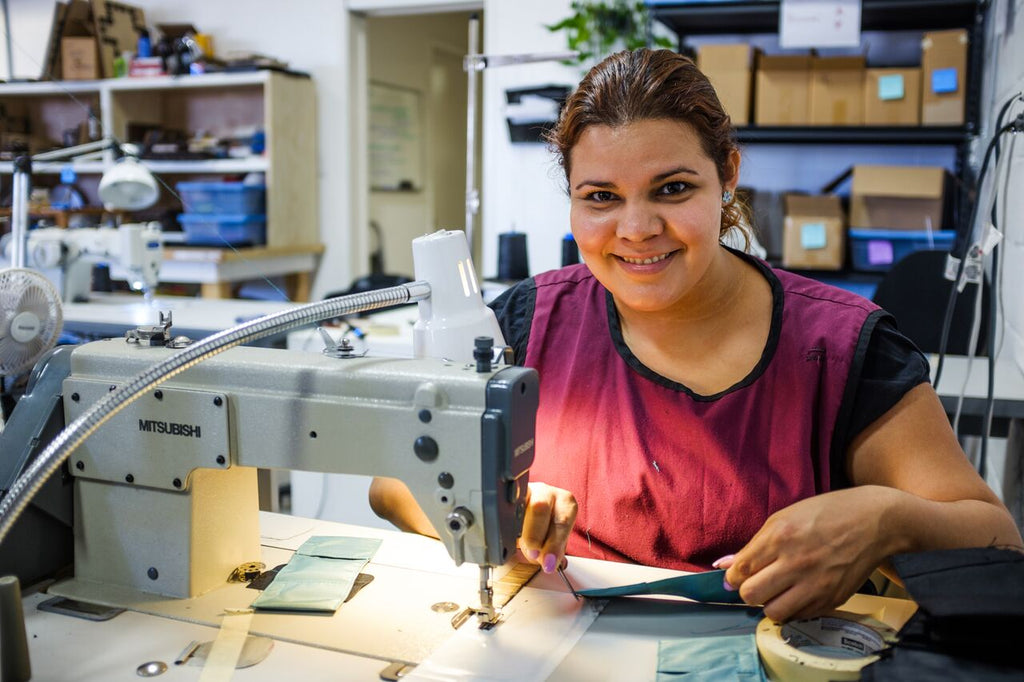 The trickiest sewing step is the final closure of the wallet. It requires a high level of precision because we have a very thin margin for error. This is the last step performed before the finishing touches.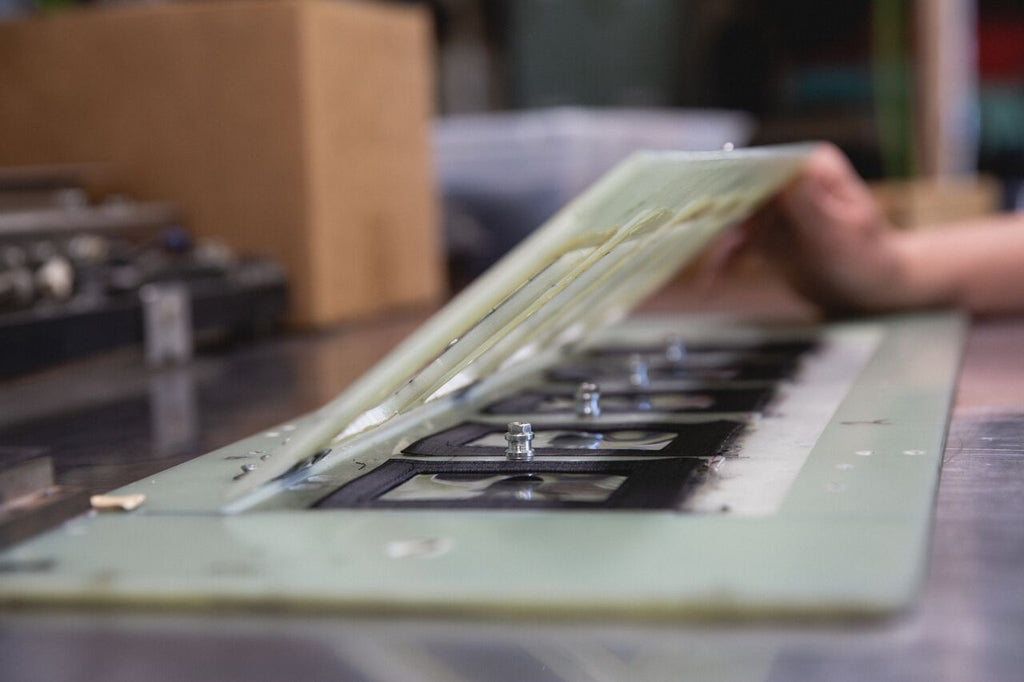 We use a programmable sewing machine for parts that require extra precision like sewing ID windows. This jig is inserted into the sewing machine while the next jig is hand-loaded with parts.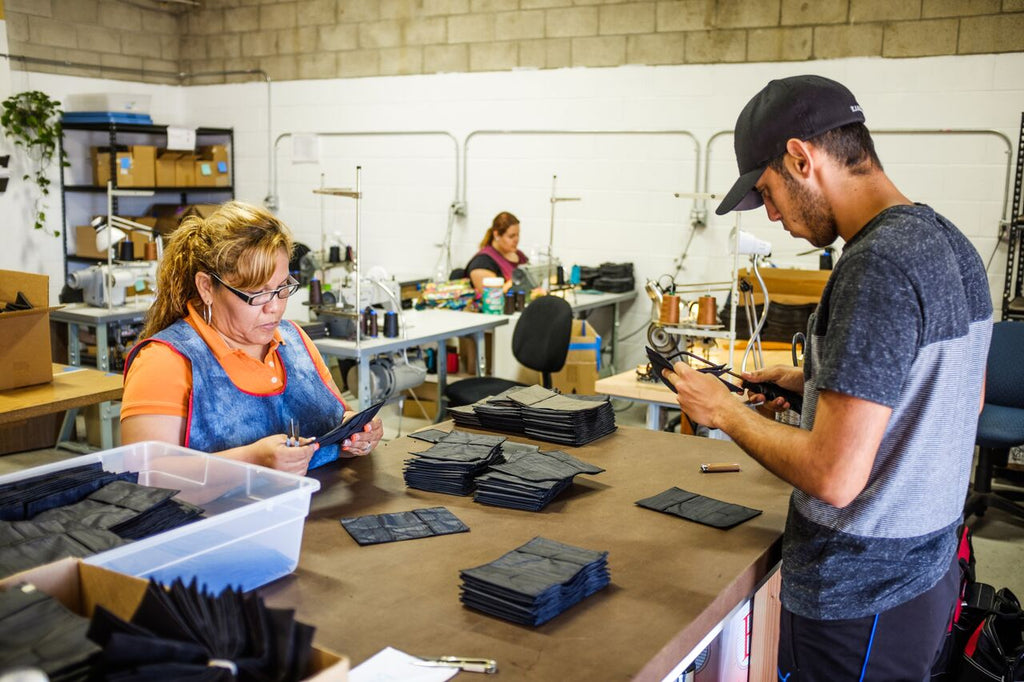 Snipping loose threads off the wallets is a crucial final stage and takes a good deal of focus, time and energy. This quality control step is performed throughout the process of building a wallet, but is most important during the final stages.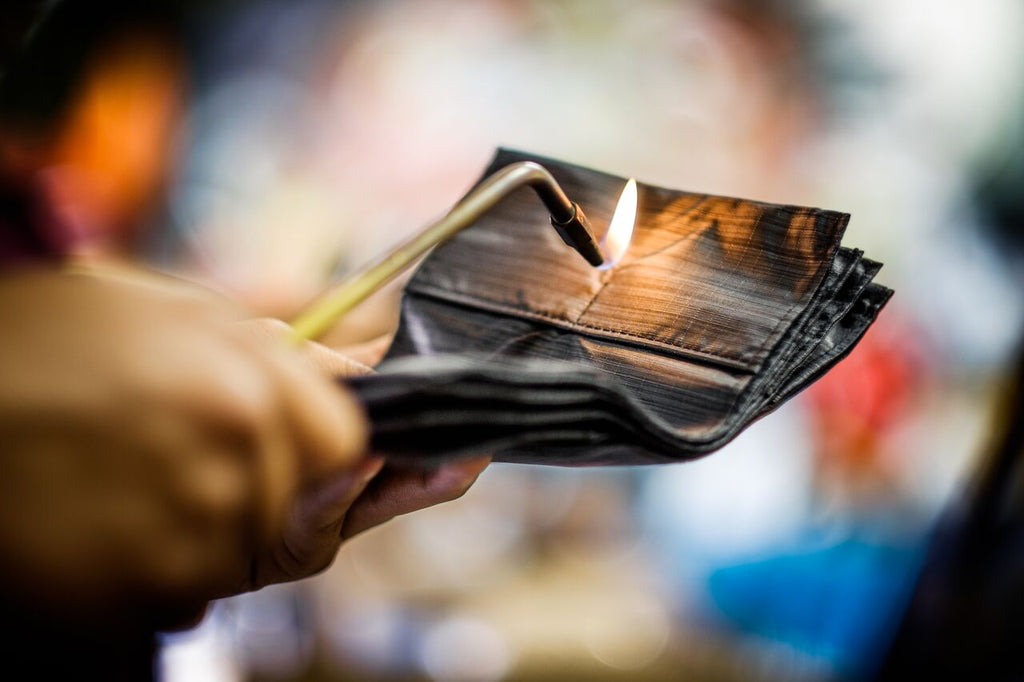 Once loose threads are snipped, we apply flame to the edges of the threads to seal them up and avoid fray. Attention to detail is key in this step because nylon is sensitive to heat and will melt if applied for too long.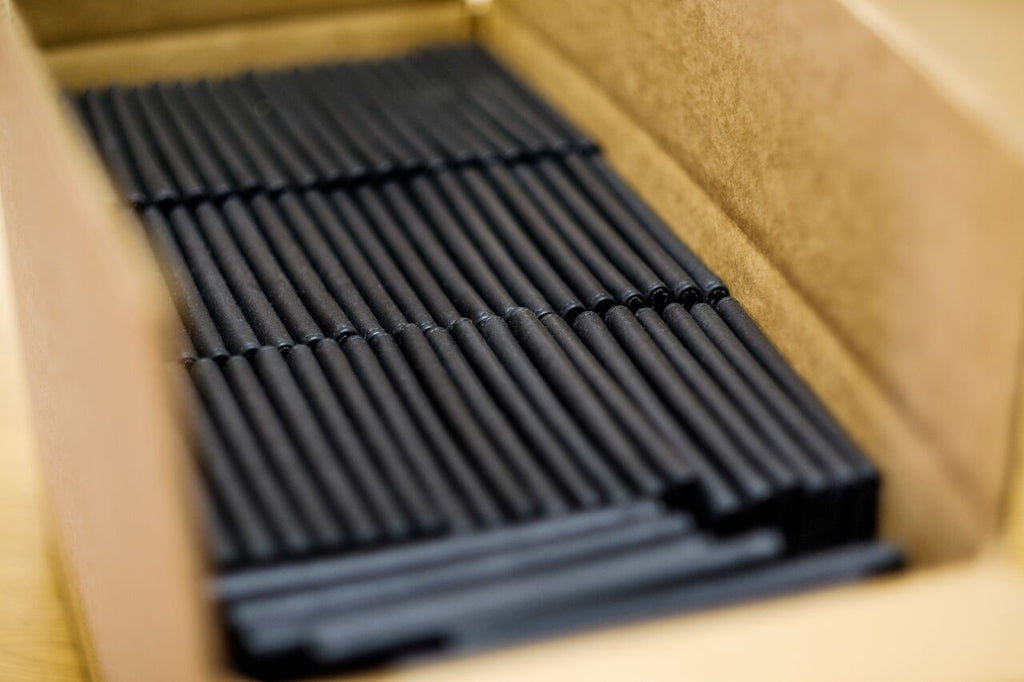 A beautiful box of slim Allett wallets is ready to be packed up and delivered to your door. Notice how slim they are and how many fit in one box. Our small team of four craftspeople finish on average, 1200 top quality Allett wallets each week. Leading up to the holidays and during the busiest times of the year, our team doubles in size, and capacity grows by 400%.