ID Wallet
Nylon Edition
Our modern, minimalist take on the classic bifold wallet with RFID blocking technology. This low profile wallet is built from durable, weatherproof bluesign®-certified ripstop nylon that's designed to go farther.
ID Wallet
Nylon Edition
Our modern, minimalist take on the classic bifold wallet with RFID blocking technology. This low profile wallet is built from durable, weatherproof bluesign®-certified ripstop nylon that's designed to go farther.
Features At-A-Glance

Slim, low-profile bifold wallet that hold up to 3-12+ cards and cash and receipts in a divided bill pocket
A modern bifold with RFID theft blocking technology to protect you from RFID skimming theft
Tear-proof and weatherproof and made with durable

bluesign®

-certified ripstop nylon and built to last
No-slip card grips in the credit card pockets keeps your cards secure while you're on the move
Features a clear ID pocket
The perfect front-pocket friendly, minimalist bifold, measuring 4.06" x 3.5" x 0.19" (103mm x 89mm x 5mm)
Features a hidden pocket for the Allett Micro Pen

Bundle with the Micro Pen for 35% off
Compare all our slim wallet styles. Check out our Wallet Comparison Chart.

Designed for the Journey

This is not your grandfather's bifold. A modern, minimalist take on the classic bifold, this low profile wallet will give you the same functionality and form, without the bulkiness of an old school bifold wallet.

Carry it all with capacity to carry up to 12 cards, plus a divided pocket so you can carry cash, receipts, and whatever else you need to stow away. A separate clear ID window gives you easy access to your identification with a quick flip or slide of the finger. This wallet also features a Micro Pen sleeve so you can stash our Micro Pen for when the creative juices are flowing (or you're ready to sign for that purchase).

And since this wallet is made with a thin, ripstop nylon, you can carry it all in a thin, low profile package. bluesign®-certified ripstop nylon is also weatherproof and tearproof, which makes this low profile wallet built to last and your ideal partner for any adventure, whether indoors, outdoors, international, or wherever life takes you.

And don't worry about security. No-slip card grips sewn into each card pocket keeps your cards from falling out while you're on the move. And RFID-blocking technology keeps your cards safe from RFID skimming theft while you're out and about.

Backed by our warranty, this modern bifold wallet is sure to be your front-pocket friendly partner in crime for years to come.

All Allett slim wallets are hand crafted with care in San Diego, California, USA.
Made For More
Bluesign®-Certified Ripstop Nylon
The ripstop nylon we use in all of our wallet products is bluesign® certified. That means that the material has undergone painstaking supply chain auditing every step of the way to ensure that the processes, factories, and materials are environmentally conscious and as friendly to the environment as possible.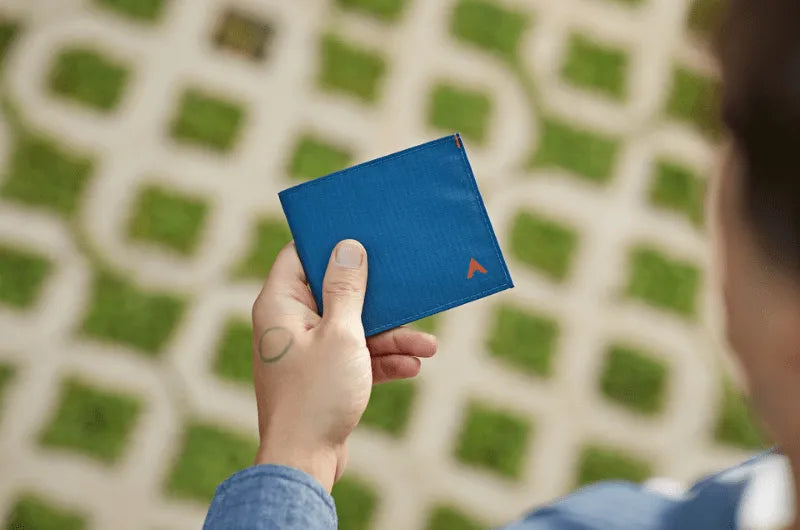 RFID Blocking
This wallet features RFID blocking technology, protecting you from credit card and identity theft. We use an undetectable and nearly weightless US Military-grade lining that is corrosion and wear resistant, so you can carry your Allett slim wallet with peace of mind.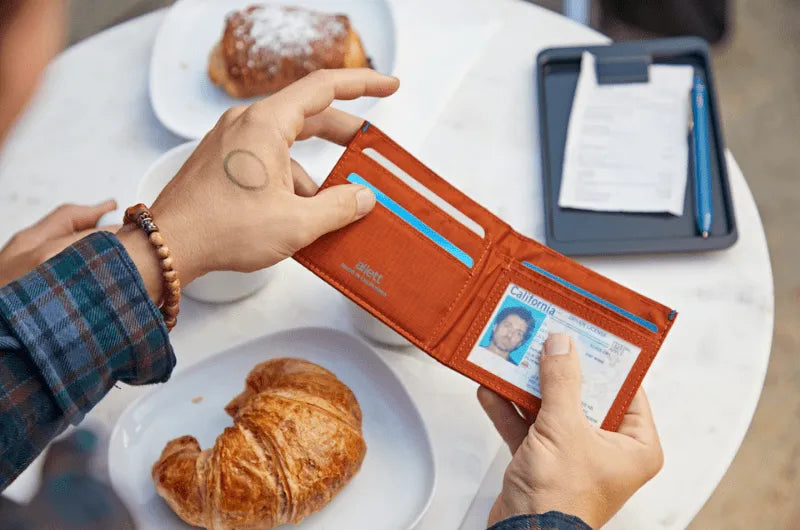 Nonslip Storage
The details matter, and we've paid attention to every one. Our slim wallets feature a silicone, nonslip grip strip in each card pocket that securely holds them in place, so your cards won't slip when you're on the move with your Allett slim wallet.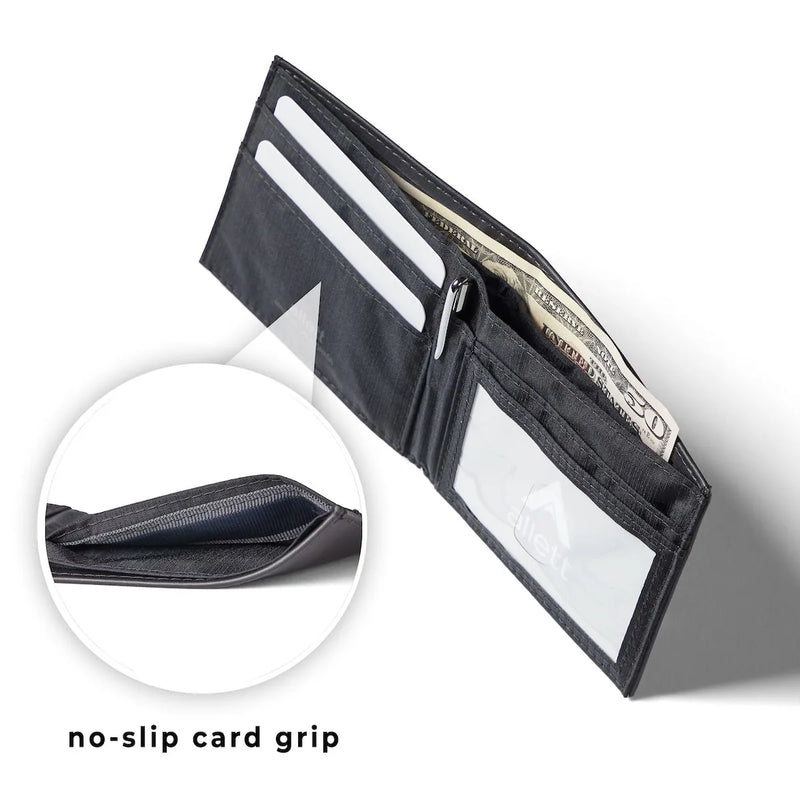 The Companion Micro Pen
With our Micro Pen, you'll never dig around for a pen again. This custom pen securely hooks onto the middle seam or into the built in pen sleeve in many of our slim wallets without adding bulk to the package. Whether you're signing a receipt or letting your creative juices flow, you'll never get stuck without one again.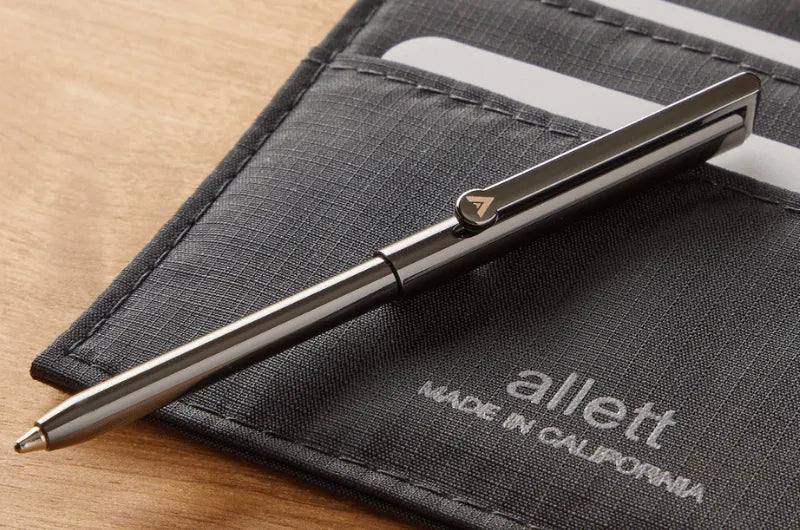 Made in USA
Since 1995, all of our wallets are designed and hand made in San Diego, California, USA. And you can expect the quality and durability that comes with handcrafted products made here in the USA, using the best materials that are built to last.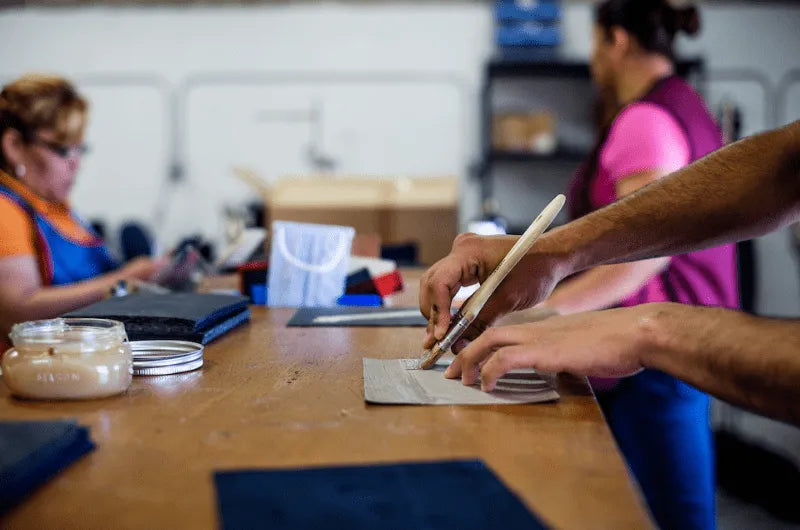 Made Responsibly
For over 25 years, we've been making slim wallets with a conscience. From how we take care of our team members to our environmentally-conscious production practices, we're dedicated to being positive contributors to the community and world around us.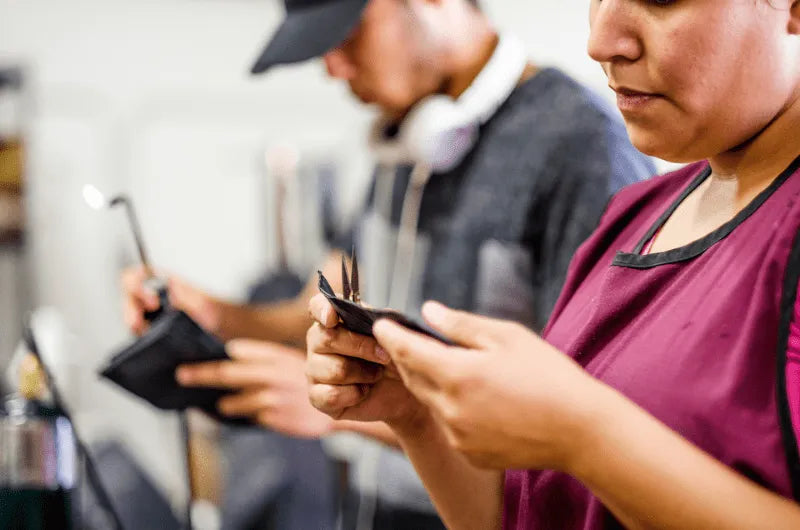 Space For It All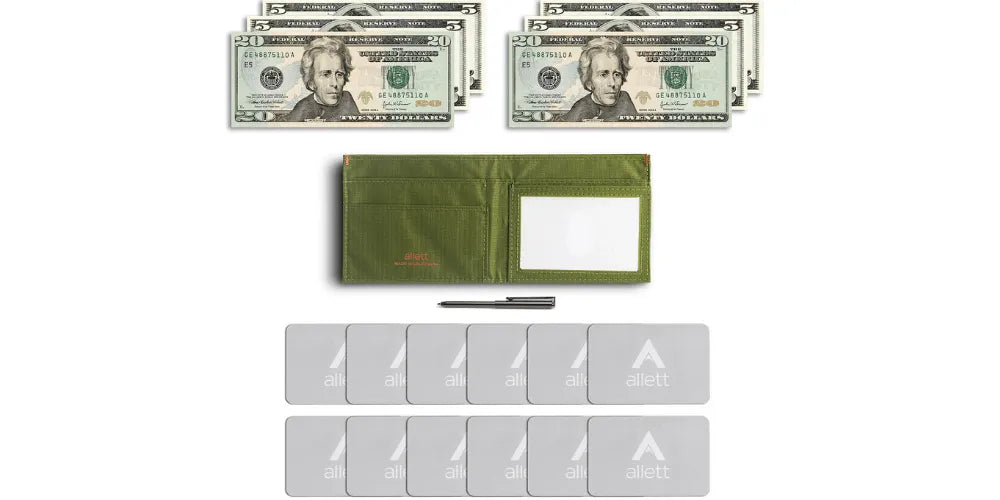 RFID Theft Protection
Canceling your credit cards due to a lost or stolen wallet is a pain. Being a victim of RFID skimming is even worse. This form of theft uses high-frequency scanners (13.56 MHz) to duplicate credit card and passport information from a distance, without touching your wallet. Our RFID blocking products contain an ultra-thin layer of military-grade RFID blocking material to prevent information theft and give you peace of mind.
Don't get stuck
without a pen again.
---
Add a Micro Pen to your purchase for only $13 - that's $5 off the original price!
The Allett Micro Pen slides securely into the pen pocket built into each of our wallets. So wherever you are, whenever you need it, you're ready to make your mark.
Add the Micro Pen to cart
Back To Top
Free easy returns
If you purchased a product directly from our site and aren't satisfied for any reason, we offer free U.S. returns. Returns or exchanges must be processed within 30 days and returned to us in their original condition. Learn More
Hassle-Free International Shipping
We ship worldwide and provide tracking to most destinations. International transit times vary depending on your distance from California. International Standard shipping delivers in an average of 6 to 14 business days. International Express shipping delivers in 2 to 5 business days. Please contact us if you have any shipping questions. Learn More
Backed by Our Warranty
Allett products are warranted to be free from defects. If one of our products becomes structurally unsound (torn stitching or material, broken pocket or zipper) within one year of normal use, it will be covered by our warranty, and we will replace the item. Learn More
USA Made
Allett wallets are manufactured by our in-house team of skilled designers and craftspeople. Made in California since 1995.